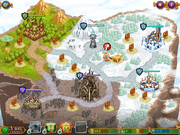 A New Rival is the 4th level in Duchy of Westaria campaign in Takeover.
It rewards 2000 XP.
We must cut Wesport off from the Capital. But the recons report that the rebels from the North were seen there and they are practicing forbidden magic. Our duty is to destroy them along with the necromancers!
Ad blocker interference detected!
Wikia is a free-to-use site that makes money from advertising. We have a modified experience for viewers using ad blockers

Wikia is not accessible if you've made further modifications. Remove the custom ad blocker rule(s) and the page will load as expected.