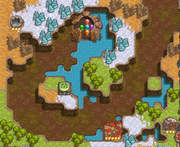 General's Last Battle is the 3rd level in Cursed Treasure 2.
The case is clear now: The Queen wants 5 new rings on her left hand. The King will sacrifice every single citizen to get them. So here he comes, The General, the governor of Meadowshire, as large as life.
It rewards 1050 XP max.
1. 2 Guards
2. 5 Peasants
3. 6 Peasants
4. 5 Guards
5. 1 Blacksmith
7. 8 Rogues
8. 9 Rogues
10. 1 Adventurer
11. 10 Valkyries
12. 12 Rogues
14. 12 Valkyries
15. 1 General
Ad blocker interference detected!
Wikia is a free-to-use site that makes money from advertising. We have a modified experience for viewers using ad blockers

Wikia is not accessible if you've made further modifications. Remove the custom ad blocker rule(s) and the page will load as expected.