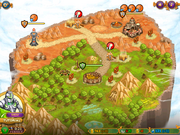 Havoc is the 2nd level in Duchy of Westaria campaign in Takeover.
It rewards 1500 XP.
The Crimson Horde was conquered by the Empire ages ago, but they were never fully bent. Havoc reigns in Rivadis. And these barbarians are trying to seize our land.
Ad blocker interference detected!
Wikia is a free-to-use site that makes money from advertising. We have a modified experience for viewers using ad blockers

Wikia is not accessible if you've made further modifications. Remove the custom ad blocker rule(s) and the page will load as expected.