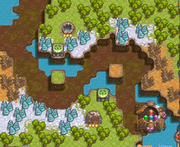 Investigation is the 2nd level in Cursed Treasure 2.
It rewards 600 XP max
The King of the Kingdom ordered to bring him 5 gems by all means. Unfortunately the intruders die too fast so no one remains to be asked why. But here they come again!
1. 2 Peasants
2. 2 Peasants
3. 2 Guards
4. 2 Rogues
5. 3 Guards
6. 3 Knights
7. 4 Guards
8. 4 Rogues
9. 5 Knights
10. 1 Adventurer
Ad blocker interference detected!
Wikia is a free-to-use site that makes money from advertising. We have a modified experience for viewers using ad blockers

Wikia is not accessible if you've made further modifications. Remove the custom ad blocker rule(s) and the page will load as expected.