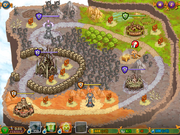 Storm of Westport is the 5th level in Duchy of Westaria campaign in Takeover.
It rewards 3000 XP.
Our forces on the continent have to fight on two fronts these days. Moreover we have to deal with the Horde too! The only way out is to attack Westport and seize it to secure the transfer of the reinforcement.
Ad blocker interference detected!
Wikia is a free-to-use site that makes money from advertising. We have a modified experience for viewers using ad blockers

Wikia is not accessible if you've made further modifications. Remove the custom ad blocker rule(s) and the page will load as expected.