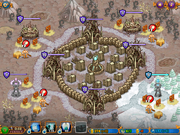 The Final Battle is the 8th level in Icedales Cult campaign in Takeover.
It rewards 7500 XP.
We'll meet the Westarians in the battlefield again but now we'll fight shoulder to shoulder. Let the combined light of The Lord and Northern Magic wipe the undeads out from our world forever!
Ad blocker interference detected!
Wikia is a free-to-use site that makes money from advertising. We have a modified experience for viewers using ad blockers

Wikia is not accessible if you've made further modifications. Remove the custom ad blocker rule(s) and the page will load as expected.