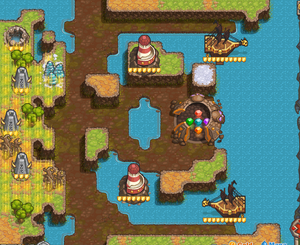 The Two Towers is the 20th level in Cursed Treasure 2.
It rewards 108000 XP max.
Here is the main base camp of the pirates - a nice bay with two lighthouses. What we like about the lighthouses is that they have fire on top! The plan is simple: seize the lighthouses, burn the ships.
1. 1 Rogue
2. 2 Rogues
3. 1 Pirate
4. 2 Pirates
5. 3 Rogues
6. 3 Rogues
7. 3 Bards
8. 2 Cooks
9. 3 Divers
10. 1 Smuggler
11. 3 Cooks
14. 5 Pirates
15. 1 Iron Guard
16. 4 Divers
18. 4 Engineers
19. 6 Pirates
20. 1 Smuggler
21. 7 Bards
24. 8 Pirates
25. 2 Smugglers
28. 7 Divers
30. 1 Iron Guard